ADIDAS STROKE OF GENIUS WITH STORMZY
April 17, 2018 by Max Goldthorpe
Securing a rising star can dramatically elevate any brand, especially in the fashion industry. Brands try to target upcoming talent before they make it big, so the celebrity can grow with them and vice versa, profiting both parties. A perfect example of this would be Adidas's relationship with Grime king, Stormzy aka Big Mike.
Until 2015 the likelihood of anyone over a certain age knowing what grime music is was minimal. Since that year the man from Croydon has taken the music scene and world by storm (no pun intended).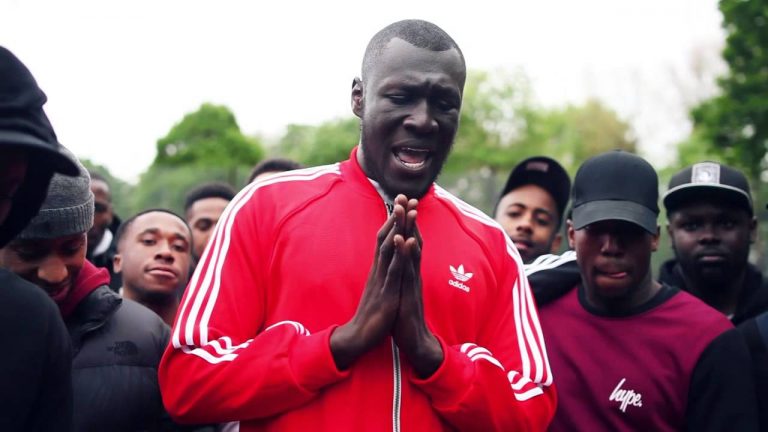 May 17th 2015 saw the Grime artist who had only just signed on to endorse Adidas upload a video of a freestyle titled 'Shut Up', sporting one of the brands red tracksuits.
Once released the freestyle grew with such pace, he released it on iTunes and it soon rocketed into the UK Top 40. The YouTube video has since had over 75million views – tremendous exposure for the brand.
Later that year Stormzy, in another Adidas tracksuit, performed 'Shut up' in front of millions of viewers for heavyweight boxer Anthony Joshua's walk in before he fought and knocked out Dillian Whyte.
From that moment Stormzy's name started carrying real weight in the music industry and everyone was eager to hear his long-awaited album.
His rise in popularity was truly remarkable, and at that point, he was so heavily affiliated with Adidas, it was hard not to associate him with the brand. What I found quite shocking was that when I attended one of his gigs at the Brixton O2 arena, I was taken back by the amount of Adidas attire being worn by his fans! It was like a cult following!
The 6ft5 Croydon man had the most astonishing 2017: performing with Ed Sheeran at the Brit awards, releasing his debut album 'Gang Signs & Prayers', which went to number 1 in the album charts – the first time a Grime album had ever got to number 1 … safe to say Stormzy had officially made it.
A year after his performance with Ed Sheeran, Stormzy was back at the Brits and this time he was nominated for Best Album and Male Solo Artist, both against his superstar friend Ed Sheeran. Despite Ed being the favourite, Stormzy won both awards!
Big Mike is a tremendous ambassador for Adidas, he resonates with so many young people and is adored by them. People often associate Grime music with gang culture as a lot of the pioneering artists come from low-income areas, predominantly in London. Stormzy uses this stereotype to his advantage and often raps about people's misconceptions about him and his art form. He uses humour in a lot of his music and is a larger-than-life character in all of his interviews.
When people from around the world look up Stormzy's music, the majority of his music videos would show him promoting the Adidas brand. Whether or not the partnership between the pair lasts forever, his music video will be around for decades and people will always remember Stormzy's bright red Adidas tracksuit for years to come.
The influencer market is inflated and over saturated at the moment and that has scared a lot of brands off using talent to promote their products and services. But the case of Adidas and Stormzy highlights just how great these partnerships can be if done well with the right person.
For PR advice get in touch with us here or call Tracey or Claire on 02077349995