How Social Media can derail a PR Crisis
June 1, by Jonathan Gabay
Thameslink is the latest major UK brand to become derailed by a 101 PR mistake that commonly taken a grip of just about every organisation in this social media era. Brands tend to react too quickly to social media criticism, rather than allow themselves just a modicum of time to think first, then respond.
Twitter – the de facto channel for frustrated consumers
Whilst Glassdoor has become the go-to place for former disgruntled employees to vent spleens against bosses, so Twitter has become the de facto channel for frustrated consumers to lash-out at brands who underperform in terms of customer service.
Thameslink cancelled more than 400 trains in one day.  It then posted a Tweet in reply to an irritated customer which read:
"Very sorry Kevin. Appreciate at the moment the service is less Ferrero Rocher and more Poundland cooking chocolate. We are working out best to stabilise the service."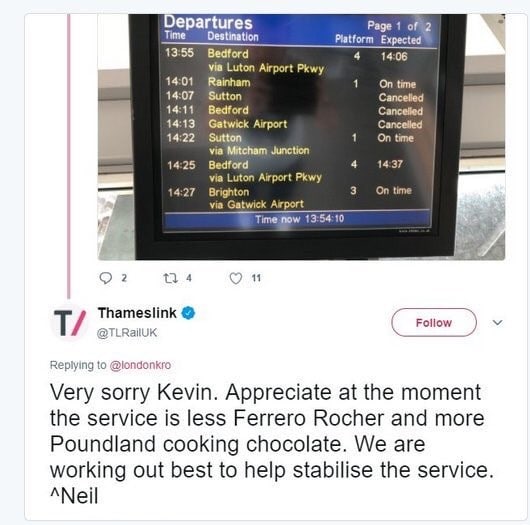 Apart from the glaring typo "out" rather than "our", the reaction was completely misjudged.  First, the brand admitted that its own service was shoddy (which, given the circumstances is arguably acceptable and appropriate).
However, it then unnecessarily took a pot-shot at a company that had nothing to do with the situation and it opened the gates to retaliation from the company that was the butt of their joke in Poundland.
Given sufficient annoyance, an irate passenger or consumer on Twitter will never let things lay. So, the message became viral – with Poundland threatening legal action against Thameslink:
"If you don't want to hear from our extremely twitchy legal team, we suggest you remove your tweet."
…responded Poundland.
Then Poundland re-joined (via Twitter) with an amusing retort to Thameslink.
Before long, even I received a request from the BBC asking for a comment on the faux pas which had by now also drawn attention from the national media.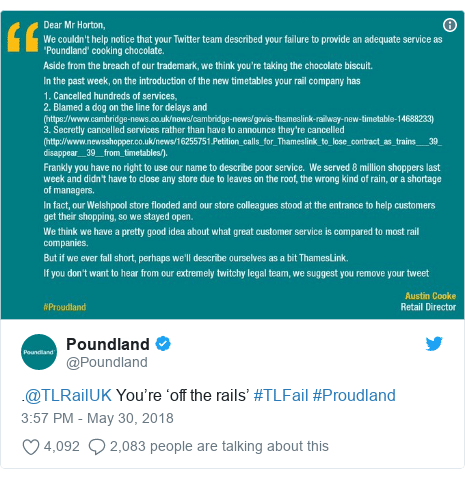 Take two Tweets four times a day
From a brand psychology perspective, consumers getting things off their chest on a brand's public feed has become the instant-fix alternative to anger management therapy.  As with any painkiller, those same consumers expect rapid fixes to their headaches.
However, just as a responsible doctor would not casually and quickly simply handout pills, so brands need to take a small breather – even if only for a few moments– to more carefully consider their social media response.
Much of the blame for the malady lay at the feet of marketing and PR people feeling pressured to monitor and manage all platforms – all the time. Knee-jerk reactions invariably court what PR companies call "jump-stories" that 'jump" on a hot topic in the news.
For example, when United Airlines manhandled a passenger, effectively forcing them off a plane, the dictionary publisher, Merriam-Webster "jumped" the opportunity by tweeting:
"Volunteer means "someone who does something without being forced to do it."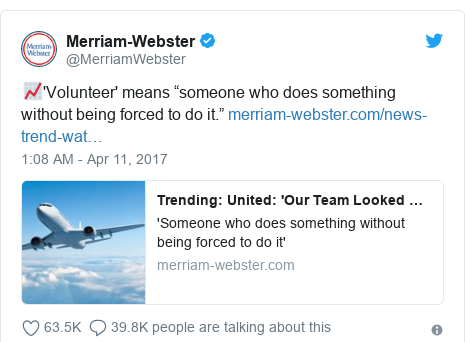 (It received 64k likes)
It's not what you say, it's how and when you say it
Whilst all communication is healthy, how to approach effective communications is the most essential aspect of all.   People want to know what is actually being done to resolve a situation – rather than become embroiled in slinging-matches. Demonstrating professional management of a situation shows the brand is in control– which in turn helps instils confidence and even bolster brand loyalty.
One-way brands tend to address problems via social media is to leverage the impact of influencers – however, this can backfire if not handled with due care and full consideration.  When influencers are seen to be little more than brand-sycophantic, their credibility begins to wane.
The lesson from the Thameslink case is clear:  act responsibly and respond in a way that demonstrates tactful action unless you are prepared to accept tit for tat … but of course, doing so… will open up an even bigger can of worms.
For PR advice get in touch with us here or call and ask to speak to Tracey or James on 02077349995