Robbie Williams and the World Cup. A PR Coup or Scandal?
June 14, 2018 by Jonathan Gabay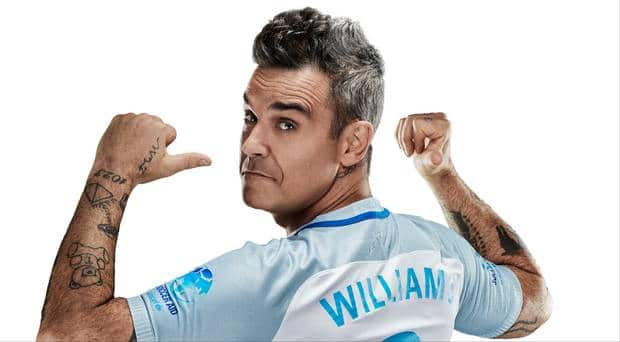 It's been four years in the making.  Now, at last, the football World Cup is here!  Tensions are high with national fans.  Companies around the world are judicially scheduling in reasonable football watching time at Board Rooms during the working day.  Huge screens are being erected in parks throughout the world to watch the big games.
However, given the host nation is Russia, this year's tournament is bound to be surrounded by controversy that goes beyond questioning referee and team management decisions.  Which brings me to the contentious issue of Robbie Williams, formerly of Take That agreeing to croon at the World Cup's opening ceremony.
Williams will deliver a full half-hour performance before (what in it itself will be a politically dicey) first match between Russia and Saudi Arabia.
Williams has been accused of 'shamefully legitimising' Vladimir Putin's 'thuggish' regime.  Williams said in an official Fifa statement that it was his "boyhood dream" to open the World Cup in front of 80,000 fans in Moscow's Luzhniki Stadium.
"I'm so happy and excited to be going back to Russia for such a unique performance,"
Reportedly Russian backers and Fifa are paying the British born and bred pop icon hundreds of thousands of pounds for his performance.
Meanwhile, British dignitaries, including the Royal family and politicians, have delicately stayed away from the tournament, in protest at the nerve agent attack in the UK, as well as Russia supporting the Syrian regime. The Media have not been kind to Robbie Williams either.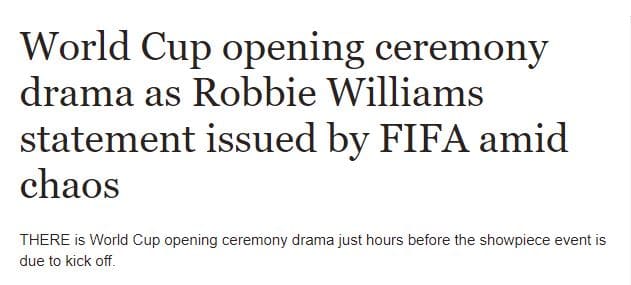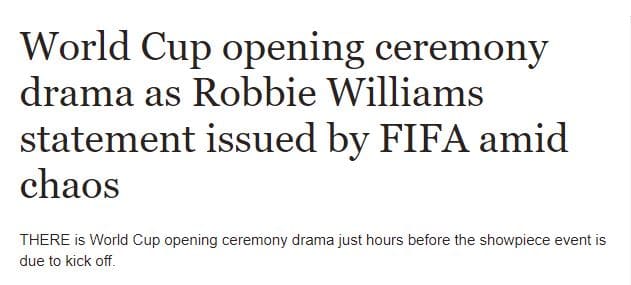 In recent months the international community treated Vladimir Putin as a pariah after the UK and its allies blamed Moscow for poisoning the former Russian intelligence officer Sergei Skripal and his daughter in the city of Salisbury.  Equally, Russia has been accused of persecuting LGBT+ people in Chechnya and elsewhere.  Russia has also faced tough times in the global political community when they were kicked out of the globally crucial group of now known as the G7.
So, the big question is…  will Robbie 'do a DeNiro' on the day and express the feelings of the so many around the world…about a global leader… or will he simply sing for his supper – explaining that the key thing is the 'beautiful game' – rather than the politics of the host nation?
https://www.youtube.com/watch?v=1zNr8Pf1QkY
Either way, he is in a PR quandary.  If KBA Talent had managed the situation we would have very carefully judged whether or not to accept the gig in the first place.  The one angle that could have been exploited was Robbie's 'rebel' image not to conform.  However, when you are dealing with the likes of Vladamir Putin … as even President Trump allegedly discovered –  sometimes not all PR opportunities are simply a game of two equal halves.
For PR advice get in touch with us here or call and ask to speak to Tracey or James on 02077349995