LITTLE MIX UNVEIL NEW RANGE WITH USA PRO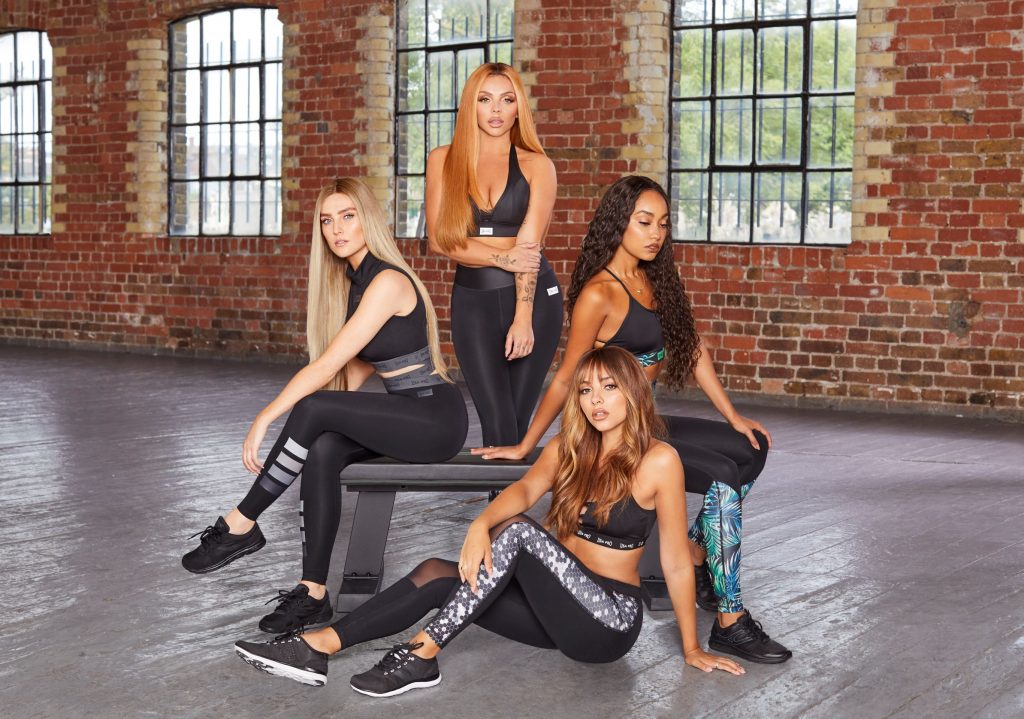 Little Mix are back with a knock-out new collection for USA Pro – taking statement sportswear to a whole new level.
Designed for women by women, the chart-topping group's fourth range blends edgy street vibes with performance-enhancing quality. Featuring sports bras, crop tops, ultra-comfy tights and bomber jackets, the 12-piece AW18 collection focuses on chic black lines with bold splashes of colour, urban prints and stylish logo embellishment.
Jade, Perrie, Leigh-Anne and Jesy co-designed three pieces each, with colours, cuts and fabrics reflecting their individual styles. Jade, created a deep-cut sports bra, bomber jacket and stretch tights with contemporary hexagonal paneling: "When I'm designing my range I aim to create both something comfortable to perform in and flattering – It's important to feel good when working out."
Jesy's hooded crop sweater, muscle-back plunge sports bra and print-finish tights are designed to enhance every woman's figure. "I've got high wasted leggings that accentuate the body shape," she says. "I'm curvy and I wanted to create something that complimented that."
For Leigh-Anne's strappy sports bra, panelled tights and performance top, brights are a top priority: "This time I decided to go for a tropical print – I love anything tropical so I thought Let's go for something that reflects that'. This is my favourite shape for me personally as well, it's my go-to legging and crop now."
And for Perrie's sports bra, crop top, and block-patterned tights, the finer details really stand out: "I love the simplistic but bold colours used across my range, with the waist bands that match the crop top and sports bra. I also love the big chunky zip on my sports bra, that's definitely my favourite item."
Custom-made to wear as coordinating sets or mix-and-match separates, the girls' flexible vision of athleisure makes every piece perfect for the gym, jogging around the park or intense yoga sessions. And the fusion of fierce design with snug, comfortable materials mean the range is also ideal for lunch dates with mates, leisurely shopping trips and lazy days chilling at home. After all, when sportswear looks this good, why limit it to workouts?
Available at sportsdirect.com and usapro.co.uk, the collection is available in ladies' adult sizes from 6-16, with prices starting at just £8. Get it while you can – and be streets ahead in the style stakes this season!
[Ends]
For further information, quotes, product shots and hi-res imagery, please contact Tracey Baldwin / Louise Fowler at KBA PR:


Tracey Baldwin
PR Director – Brands
Tel: 020 7734 9995
Email: [email protected]
Louise Fowler
Assistant Account Manager – Brands
Tel: 020 7734 9995
Email – [email protected]
Editor's Notes
In a world where your workout wear is as important as your street style, USA Pro has your gym session covered. Whether you prefer a low-key workout in a mix match of colour, block basics or own it in Instagram-ready neon, water colour florals or snake print textures – USA Pro has created it. USA Pro offers a collection of stand-out prints and colours across crop tops and ¾ length leggings. The range also includes racer back vests, boyfriend tank tops, cycle shorts, fitness tees and accessories, zip-up jackets and more.
All USA Pro garments feature True Matte technology which enhances the appearance of the garment and PRO-dry fabric which wicks sweat away from the skin even during the most rigorous of workouts, moving it to the fabric's surface where it evaporates quickly and helps to keep the wearer dry and comfortable.
USA Pro is available online at sportsdirect.com and usapro.co.uk