Heatons & Sports Direct Ireland dig deep to help youngsters at Temple Street Children's University Hospital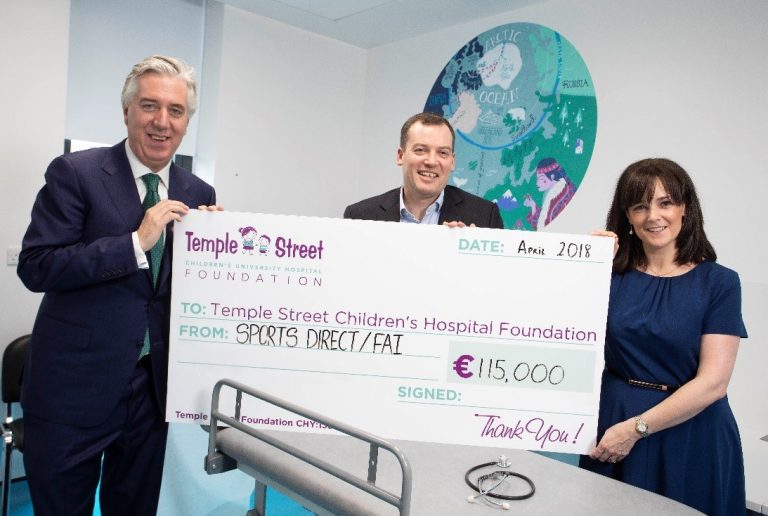 BIG-HEARTED customers at Heatons department stores and Sports Direct Ireland have donated a staggering €115,000 for young patients at Temple Street Children's University Hospital in Dublin. The life-changing donation has been made possible by the generosity of shoppers, as well as supporters of the official Sports Direct FAI Summer Soccer Schools.
A cheque for the six-figure sum will be presented to staff at the ground-breaking hospital at 10am this Friday (April 13th), by Leonard Brassel, MD for Heatons and Sports Direct Ireland, and John Delaney, CEO of the Football Association of Ireland.
"It gives us immense pleasure to deliver this donation," said Mr Brassel. "Our loyal customers at Heatons and Sports Direct Ireland, as well as the Sports Direct Summer Soccer Schools, have shown overwhelming generosity, and we are proud that they have chosen to join us in supporting such a vital cause as Temple Street. This money will ensure that many more sick children and their families get the essential healthcare and support which the hospital is renowned for."
Mr Delaney added: "We are delighted to work closely with Sports Direct Ireland on our Summer Soccer Schools programme, which continues to be hugely popular, and with this initiative to help provide essential, state-of-the-art equipment for youngsters with a range of health issues. It is important to recognise the invaluable work that Temple Street Children's Hospital do with families who rely on its extraordinary care."
Sports Direct Ireland and Heatons – one of Ireland's largest department store groups – have been raising much-needed funds for Temple Street Children's University Hospital for the past three years.
Denise Fitzgerald, CEO of the hospital, said: "I would like to warmly thank Heatons, Sports Direct & the FAI for its latest donation. In supporting our special hospital over the past few years, they have helped bring positive change to our little patients by raising over €270,000, for which we are truly grateful.
"These donations have helped us upgrade wards and buy essential life-saving equipment that sick children urgently need. Such kind support ensures that our incredible doctors and nurses have the facilities and equipment needed to provide world-class treatment to the sick babies and children in their care. Heatons' support will benefit children from all over Ireland for years to come."
Note to Editors:
For more information or high-res imagery please contact [email protected] & [email protected] or call 0207 734 9995.
Heatons (www.heatonsstores.com) – which is part of Sports Direct Ireland (www.sportsdirect.com) – has raised €270,000 for Temple Street Children's University in the past three years. This year, Sports Direct Ireland has donated €100,000 and customers from the Sports Direct FAI Summer Soccer Schools have donated €15,000.
The Sports Direct FAI Soccer Summer School programme is in its 22nd year for 2018, providing children aged 6-14 the opportunity to attend a week-long football camp. Visit www.summersoccerschools.ie for more information.
Temple Street Children's University Hospital in Dublin started life as a charitable infirmary for children more than 140 years ago. Back then It had just 21 beds, but today it cares for more than 145,000 children every year.