Unique Sport Management team up with LTSB
19th June, 2018 by Iona Kay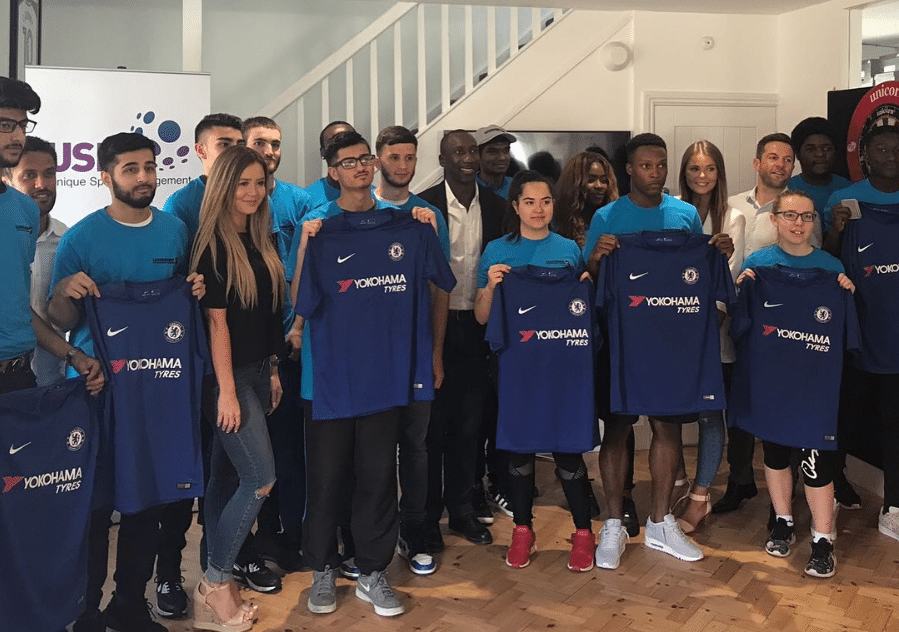 Two of KBA's clients, Unique Sports Management (USM), a top football agency and Leadership Through Sport & Business (LTSB), a charity that helps young underprivileged people secure accountancy apprenticeships with blue-chip firms, launched their partnership together at USM HQ in Kings Langley.
A star-studded line-up was present, which included ex-Chelsea star Jimmy Floyd Hasselbaink and Swansea City midfielder, Wayne Routledge, who both played integral parts in a challenge set to the young people by USM director, Barry Whelan and Football Intermediary, Ian Ryder.
The aspiring accountants were split into groups of three to four and were given a case study task: to deliberate the concerns/considerations of the player, the manager, the agent and the player welfare team when organising a player transfer from Atletico Madrid to Chelsea FC.
LTSB youngsters then had the unique opportunity of talking to four sets of experts in their given field – Wayne Routledge representing the player, Jimmy Floyd Hasselbaink representing the manager, Barry Whelan as the agent, and Lauren Reilly and Jess Gull, as the player welfare team.
Once the teams had gathered information from each station, they presented their findings to the room and were rewarded with signed Chelsea and Swansea football shirts.
KBA account manager, Will Moore, who introduced the two organisations, said:  "The interaction between the LTSB attendees and the USM representatives was fantastic – the young people's attitudes and approach to the task was outstanding, and it was clear that the work LTSB has been doing with them was more than apparent from their confident demeanors."
A jubilant Barry Whelan added: "Today has been amazing, this has been a real success and we hope to do more work together in the future. It's USM's social responsibility to give something back to society, and we're proud to be associated with LTSB."
On the 14th July, Barry will be competing in a gruelling white collar boxing match, all in aid of LTSB, of which he hopes to raise an incredible £5000 for the charity! He said: "I am raising money for a charity that gives the underprivileged a real chance of fulfilling their dreams. Over the last 6 or 7 years, I've always said I would have a go at boxing so here I am, competing in the professional surroundings of a boxing event. This is a massive achievement for me personally and I want to complete it with a huge amount of pride, knowing I have also helped a fantastic charity in the process."
LTSB thoroughly prepares and supports their young people throughout the whole scheme, offering intensive training with blue-chip companies and elite football foundations, which helps the young people develop personally and professionally, better preparing them for the business world.
You can support Whelan in his fundraising by visiting his just giving page https://www.justgiving.com/fundraising/ltsb-boxing